While alternatives like falsies or eyelash extensions and volumizing mascaras would help to boost your eyelash and play the trick for a lovely eye area, you might want to enlist the help of an eyelash growth serum if you want a more permanent solution.
There are prescribed and recommended eyelash serums like Latisse, which is FDA-approved and helps to boost your fringe into a longer and stronger set. However, not everyone has the option of getting a prescription to grow his or her lashes.
Therefore, you have only one option left; to seek the help of cosmetic products to get you the longer and stronger eyelashes you want. Skeptics would say there is no truth in an eyelash growth serum working effectively as it touts. Well, best believe that these serums have truth in them.
As a result, to help you out in getting the best eyelash growth serum there is, I have listed the best eyelash growth serums to deliver the actual result you want.
This list is derived based on research on sales data metrics, social media engagements, and in-house tryouts.
1. Best Prescription Eyelash Growth Serum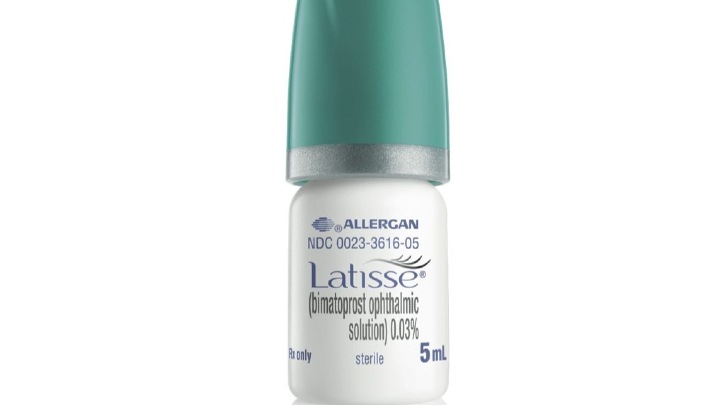 This is essential because it is still the only FDA-approved eyelash growth serum to treat hypotrichosis. Latisse helps to grow your eyelash from inadequate length to a better and fuller and thicker eyelash.
The serum is highly concentrated with a prostaglandin analog that enriches your hair follicle with its bimatoprost ophthalmic (0.03%) solution to help the upper lid improve its strength. The serum is active and you will likely see changes in your lashes within 6 weeks.
However, the serum is highly potent and reactive, therefore, it needs to be prescribed and applied with experienced hands. Furthermore, the side effects vary based on what stage and condition you have. As a result, you should be well-versed in the serum's pros and cons before getting a prescription.
You can find out more about Latisse serum at the home website including how to get a prescription.
2. Best Consumer Report Eyelash Growth Serum
VieBeauti Premium Eyelash Growth Serum
This comes up top when it comes to user ratings and word of mouth. The serum contains a gentle formula that improves the brittle and sparse lash on your lids. It also fills in the patchy area, helping it to grow faster and healthily.
The lash serum, furthermore, contains amino acids to support blood circulation in the lid area, which in turn stimulates growth. You will see improvements in your lash area in as few as 2 weeks of application.
Use this serum to improve your sparse and thin lashes to thicker, fuller, and healthier lashes in no time.
3. Best Budget Eyelash Growth Serum
Covergirl Lash Blast Amplify Eyelash Primer
This is a conditioning formula for your lashes. The serum works by improving your lashes with its moisturizing formula containing jojoba oil, coconut oil, and argan oil, giving your lash room to amplify their length.
Furthermore, the serum is inexpensive, however, it works better and faster than expected. In addition, it is lightweight and should be applied moderately to your lash area to improve its strength.
4. Best Hypoallergenic Eyelash Growth Serum
EssyNaturals Eyelash and Brow Growth Serum
With natural ingredients, this serum does not irritate the skincare of your lids. Rather it improves the healthier and stronger growth of your lashes.
Additionally, the serum's formula is quick-acting. Your lashes show signs of growth within 3-6 weeks of daily application. Moreover, the serum is priming and magnifying. It will improve the overall look of your eyelashes.
It is easy to apply and quick to react positively on the lids. Apply the serum daily for a substantial result within a short period.
5. Best Drugstore Eyelash Growth Serum
Rapidlash Eyelash Enhancing Serum
The serum provides a safe formula that doesn't irritate the skin or eye area. In addition, the serum is ophthalmologist and dermatologist tested.
It also proves safe for contact wearers and wouldn't harm the sensitive eye area. The formula is lash enhancing, speeding up the look of your lashes to a fuller and longer one after a little over a month of use.
If you want to enhance your upper eyelash in natural and even ways, use this serum.
6. Best Vegan Eyelash Growth Serum
Liaison Lash Bond Eyelash Growth Serum
This is a naturally enhancing serum containing peptides to improve and protect your eyelashes. The vegan serum only uses natural and safe ingredients to promote hair growth.
Furthermore, the formula is consistent in improving the length of your hair, giving you the right push to not only lengthen your lashes but also maintain a thickness and existing bond. This naturally enhances the strength of your eyelash.
7. Best Eyelash Growth Serum With Castor Oil
Organic Castor Oil for eyelashes by Pure Body Naturals
This serum uses a natural castor oil blend that stimulates growth and strengthens your follicles. The serum improves thinning hair, filling it with enough vitamin E to promote the overall good health of your lashes.
In addition, the serum fosters nourishing and rejuvenated lids with its moisturizing components with a dash of antioxidants to protect your lids. The serum is organic, therefore, it does not contain gluten, parabens, artificial scents, and phthalates.
8. Best Eyelash Growth Serum for Dry Skin
Fraiche Organic Castor Oil Eyelash Growth Serum
This serum conditions your lashes to boost growth and hydration. The serum contains cold compressed castor oil that provides moisture into follicles to keep them nourished and supple.
Furthermore, it contains vitamins to stimulate the growth of your lashes. If you want thick lashes in no time, you should use the serum. It grows and hydrates at the same time, keeping your lashes in a healthy cycle.
9. Best Eyelash Growth Serum for Oily Skin
Rimmel Lash Accelerator Serum
This is a fast-acting and organic formula that helps to grow your brows and lash considerably in a short amount of time.
The serum works fast in enhancing lashes damaged by curlers, mascaras, and general tools. It also works to replenish the lids, to improve the growth and appearance of new lashes.
Use the serum if you want a standard serum to soften your lashes and foster new growth.
10. Best Eyelash Growth Serum for Thin Lashes
Grande Cosmetics GrandeLash
The serum helps to promote longer hair and improve the overall lash line, giving it a thick and fuller look. The serum is quite famous for enhancing your lashes due to its high-performing formula with vitamins and peptides.
Furthermore, it is fast-acting; you would see visible results within 4-6 weeks. In addition, it is easy to apply and you won't get a greasy residue after applying. The serum improves the appearance of your eye area.
11. Best Conditioning Eyelash Growth Serum
RevitaLash Advanced Eyelash Conditioner
This product provides moisturizing benefits to your lashes, thereby promoting growth. The serum contains hydrating ingredients such as glycerin and aqua along with growth-stimulating components like biotin and cellulose to improve your lashes.
Additionally, the serum helps to reduce the visible signs of aging on your drooping lids. Moreover, it improves the healthy look of your lashes, protecting them from external stressors and chemicals.
You can get an advanced set of lashes when you apply the serum once a day.
12. Best Eyelash Growth Serum With Biotin
Revive Science Eyelash Growth Serum
This is a thick formula with vitamins and clinically tested ingredients to help improve and nourish your lashes. It also deeply stimulates and accelerates your growth phase, hydrating and conditioning your lash lines.
Besides this, the serum prevents hair loss by strengthening and rejuvenating your hair follicles. And with vitamin E and squalene, it is fortified with rich antioxidants to keep your lashes from external aggressors.
You should use the richly packed serum to improve your lash health, protect, and shine your lashes.
13. Best Eyelash Growth Serum for Strengthening
Luxros Eyelash Growth Serum
If you need a strengthening serum to deepen your follicles, then this serum is your choice. The formula not only thickens your lashes but also improves the length and depth of your eyelids.
The serum is quick-acting in getting you the result you want. This is due to its natural ingredients and the scientifically advanced technology the formula is created with. The serum is also easy to use; it would not leave a greasy residue on your skin.
You can use it to improve the health and strength of your frail lashes.
Do Eyelash Growth Serums Work?
The answer to this is not yes or no. However, in simplified terms, they do. While there is a certified eyelash growth medication that does work, eyelash growth serum's efficacy depends on varying factors.
For instance, the serums have to contain active ingredients that not only condition your lashes but also improve them generally. Furthermore, the time it takes to grow your lashes might be longer than expected. Therefore, you need to practice the art of patience with them.
Moreover, what you might suspect could be your brows improving volume thanks to your other cosmetic products like mascara. Therefore, you need to be observant and calculative when monitoring your eyebrow length.
Asides from this, if you are using a good formula like the aforementioned products, your lashes should grow in no time.  
Benefits of Using Eyelash Growth Serums
Improves lash length
Eyelash growth serums contain ingredients like peptides, keratin, biotin, or other sources of protein that help to boost eyelash length. These components penetrate the follicle, nourishing it from within and increasing blood circulation, thereby, stimulating the growth phase.
Moisturizes
Eyelash growth serums also contain conditioners, which help to moisturize and strengthen your lashes. This, in turn, strengthens your eyelashes and prevents them from breaking or shedding.
Improves thickness
If you have sparse lashes, you can use these serums to boost and improve the thickness of your lashes. Furthermore, they also keep the lid area dense and full.
Enhances eye beauty
With your eyelashes boosted and full, your eyeliner and lid area is improved. You wouldn't have to use other tools such as mascara or lash curler to enhance your beauty. You will have natural-looking lashes.
What to Look for When Picking Eyelash Growth Serum
Ingredients
Your serums should contain conditioning and hydrating ingredients such as hyaluronic acid, glycerin, and peptides. Furthermore, the serum should contain growth-promoting ingredients like biotin and keratin. These components would help improve lash growth at the follicle level.
These ingredients should help fortify your hair follicles and promote hair growth. However, you wouldn't see a great leap in lash growth. Rather, it is slow and gradual until it becomes noticeable.
Skin type
Because your eyelids are thin does not mean they do not have the same skin texture and type as your other body. As a result, your skin type still comes into consideration when picking a serum. The eyelash growth serum should align with your natural skin types.
Therefore, oily skin types should use products that are enriching and great for the skin like water-based lash serums. Meanwhile, dry skin should use thick and oil-based formulas. Sensitive skin types should stick to hypoallergenic formulas to ease and calm the possible reaction they might have.
FAQs
What happens when you stop using your eyelash growth serum?
It sheds and new hair grows. When you stop using eyelash serum, your lashes have reached the peak of their growth phase, therefore, they shed. This in turn lets new natural lash grow.
However, the lash will grow normally because the eyelash serum boosts hair growth, and without the serum, your lashes will go back to their original length.
Are eyelash growth serums safe?
Most over-the-counter eyelash serums are safe to use. However, prescription serums such as FDA-approved Latisse serum have several side effects or reactions to the skin.
The side effects include itchiness, redness, darkened eyelids, unwanted hair growth, iris pigmentation, and reduced eye pressure. Therefore, you need to be informed by a medical professional before using the serum. It is highly potent and effective in getting your lashes to grow.
Will eyelash growth serums damage your eyes?
No, they won't. If applied properly, eyelash growth serums would not hurt your eyes. The over-the-counter have little to no side effects on the skin because they contain moisturizers.
However, it could cause dryness and itchiness if it comes in direct contact with the eyes. Therefore, you are to use the applicator right with the recommended dose.
Furthermore, be extra careful if using the prescribed eyelash serum, Latisse. It has more outlined side effects you could experience when using it.
Conclusion
Eyelash growth serums are usually what you need when in a bind when it comes to your sparse and thin lashes. Not every product needs a prescription.
Nonetheless, if you are really at a loss for what to get I would recommend over-the-counter products like VieBeauti Premium Eyelash Growth Serum. It strengthens protects and lengthens your lashes.
The same goes for Grande Cosmetics GrandeLash-MD. The serum is designed to keep your lashes in good health. Meanwhile, RevitaLash Advanced Eyelash Conditioner hydrates and moisturizes your lash to keep them growing.
Nonetheless, Latisse solution is the best prescribed if you need urgent care of your lashes. The formula is fast-acting but comes with its hiccups.
Whichever serum you choose, always remember it has to suit your skin type. Not following the guide also would mean worsening your in-need eyelashes. Therefore always follow instructions to get the best results when using an eyelash growth serum.
Thanks for reading.
Serum101 provides relatable answers to satisfy your skincare curiosities and queries.